A little back story. I'm a lipless crank junkie, have been for years. I own a bunch of them - rattlers & knockers and a few discontinued Duel silents I snatched up a while back. The silents have really worked out well for me in certain scenarios, an example is when they've been hitting the noisy ones but have slowed down or altogether stopped the bite. Often a silent will get a few more bites out of a wary school of fish. I'm not the first one to silence a rattling bait, but many of the methods I've seen just weren't for me, including drilling holes in opposite sides of the bait and spraying in expanding foam ... will it work ? Yeah, but I'll pass.
I searched for a suitable bait to use as my prototype. I settled on a Yo-Zuri 3DB for a few reasons. First, Yo-Zuri makes a great bait to begin with. Second, this is not a particularly loud bait to begin with as it only has 3 balls in the rattle chamber which is located near the gill plate area behind the eyes. Third was these are semi transparent so there was no guesswork trying to figure out where to drill to get optimum access to the rattle chamber. I've sacrificed baits in the past to see how they were assembled in order to modify similar ones, I'm glad I didn't have to do that in this case.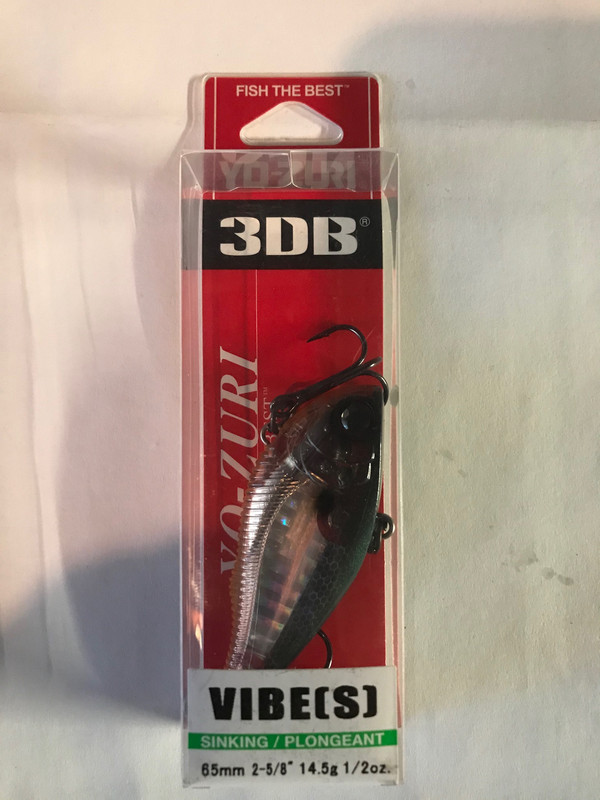 Next was to drill an approximately 3mm hole in the head directly above the chamber. After that was where the obsessive/compulsive kicked in. Most people at this point would just inject some sort of glue in, shake it around to distribute it over the rattles and call it a day. I wanted to try and maintain the balance and tracking of the bait so I carefully manipulated the 3 balls with a dental pick to lay them symmetrically inside the chamber so they weren't stacked to one side or the other. After they were in place, I mixed a tiny bit of Devcon 2 Ton clear epoxy, loaded it into a small hobby syringe and injected it into the rattle cavity. I only added what was needed to coat the 3 balls. I then allowed the baits to sit for a full 18 hours to cure.
Once the epoxy had cured fully, it was time to permanently seal the bait. I had a lot of stuff on hand to choose from, I ended up using this 3M 5200 marine sealant. Anyone that's familiar with this stuff knows how ridiculously strong it is, it's basically a permanent repair. Once it cures it's there to stay. I had used it to repair a cracked kayak (which it did a fine job of) and figured "why not ?" for this application. I'm sure I could have used any number of automotive silicones, caulk, etc. but as long as the hole is sealed 100% is all that matters. After allowing that to cure for 24 hours I still wasn't done. The 5200 is white and I didn't like the aesthetics of a white dot on a dark back. I dabbed a dot of black enamel fingernail polish on the cured 5200 and let that dry about an hour. Last step in the sealing process was a dab of the Devcon 2 Ton on top of the nail polish just to make everything nice and level with the top surface of the bait.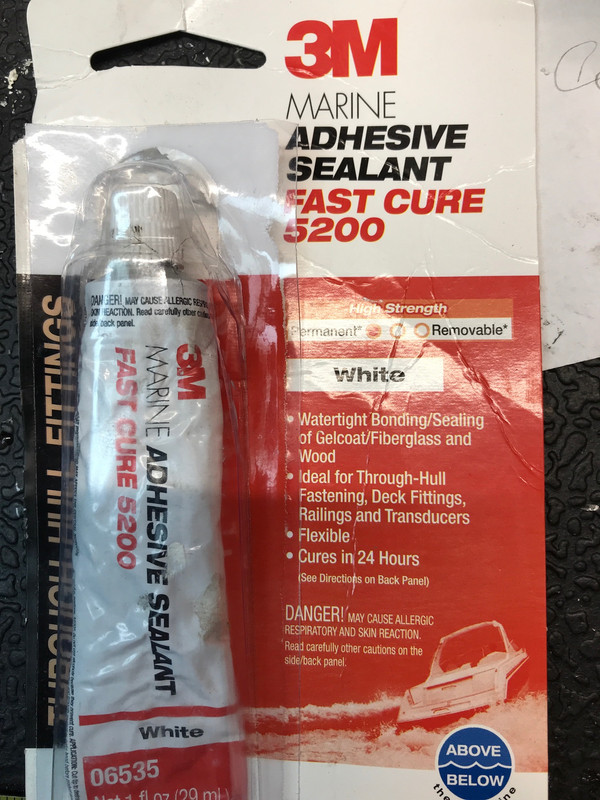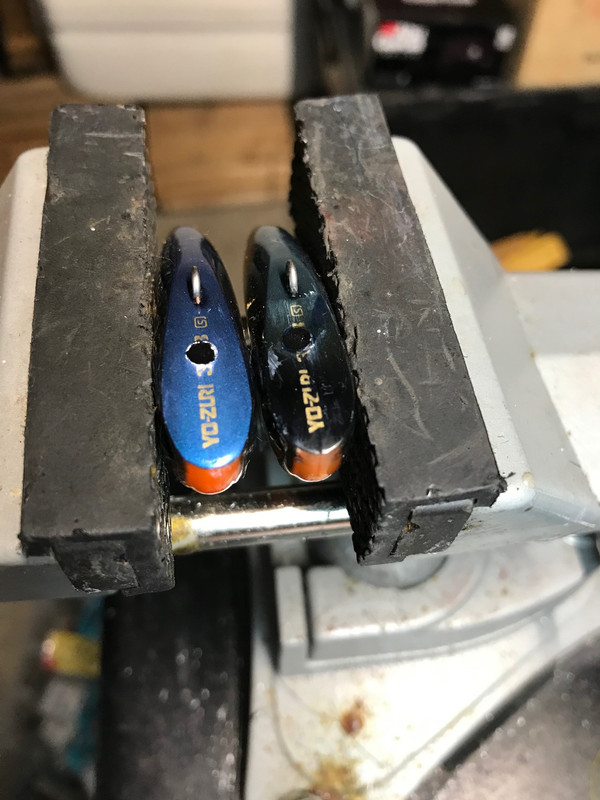 If you look closely you can see one of the balls directly behind the eye. Same thing on the other side, the third ball is forward of the two that are behind the eye directly between the eyes.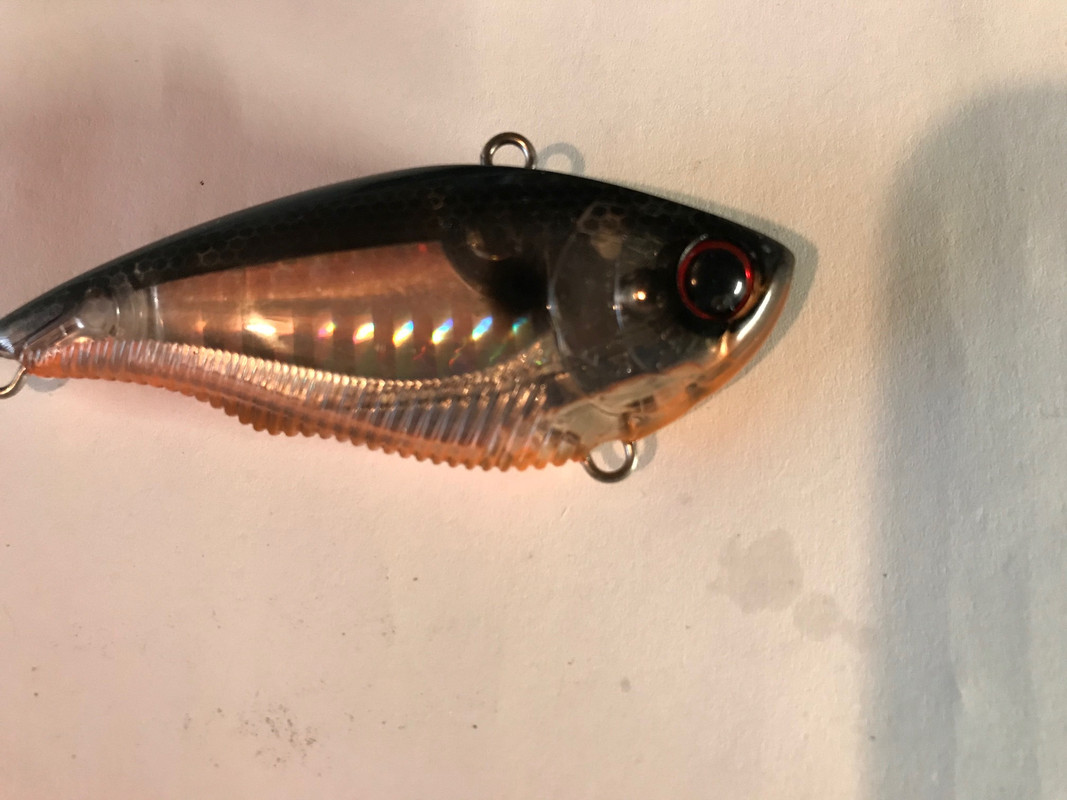 So you're thinking "That's a lot of work just to silence a bait" and I'd be the first to agree with you. A few days after I did this I went to a local clear sand pit to see them in action, and this is where the attention to detail paid off. They ran great at all speeds, good action and ran true but what really caught my eye was that they sat straight up at rest on the bottom. That wasn't my goal and was unexpected but I was thrilled anyhow. Would it have done this had I not arranged the balls like I did before gluing them ? Maybe, but I got the results I was after and then some.