Well the other day I was board and watching some YouTube videos of some guys fishing in Japan FYI I do not speak Japanese I just watch videos for the sake of watching fishing videos, and I saw this crazy new way of rigging a plastic creature bait a cross between a Texas rig and drop shot. I did some reading owner debuted this product at the 2011 icast and its out in stores now but they use a different name they call it a jig rig and for 2 pack of 5/0 hooks and a 1/4 oz drop shot weights they charge $8.
Well I looked through my tackle and I had the components to make my own version and I wanted to share it with other that might not have heard or seen them yet.
I made a hand full of them in no time flat with items I already had. I just used a simple nail polish that I use to paint all my bullet weights so I have a few different colors but I did most in the black as noted in the photo.
1/0 with 1/8 and 3/16
3/0 with 1/4 and 3/8
5/0 with 3/8 and 1/2
My version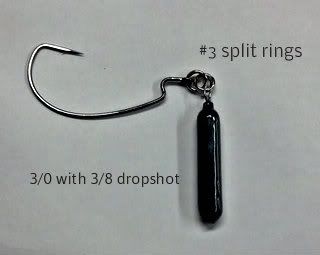 Owners version
I know that its nothing super creative but I wanted to share so other became aware of a new concept with out having to breaking the bank.