Received a new Major Craft N-ONE 6'4" ajing rod (NSL-S642AJI) from Japan and couldn't wait to try it. Wanted to see how it compared to my two other ajing rods, Kuying SuperLite and Major Craft Crostage 4-piece travel, both 7'6".
Here it is with a Shimano Stradic Ci4+ 1000 lined with Varivas Area Master Limited Super Ester 2.3#. While I appreciate the beauty of the rod, to me rods are tools and how well they work is what really matters.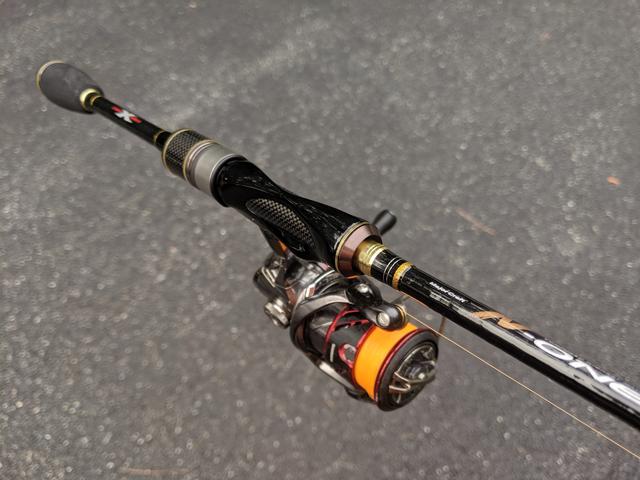 Took it out in a kayak on a local lake and was immediately impressed with how light it and crisp it felt. Don't know the specs, but obviously lighter than my other two, but also a foot shorter. Shorter made the casting feel a little more controlled. I used my standard setup, a 1.6 g jig head with a Trout Magnet for most of the afternoon.
Sensitivity was obviously higher than the other rods. Not at the level of my only higher end rod (Daiwa Presso AGS 54XUL-S) but enough that I think even a casual user would notice. Don't hold me to this but I will probably save my pennies to focus on JDM rods at this level and higher going forward. Will still buy the occasional Chinese rod but that will be more about testing if I like certain types of rods or styles of fishing before committing to a JDM purchase.
I'm not sure the N-ONE felt any faster than my other ajing rods while casting but when fighting a fish it didn't appear to bend as deep into the rod. None the less, it still did a great job of protecting the no-stretch ester, which had only a short 7X flouro tippet leader. No break offs.
After catching sunfish, perch, crappie and bass, I wanted to get a pickerel to complete a Jersey Slam. Trout Magnets have caught me many pickerel but to provide a more alluring target I put on a 1.5" Brewer's Crappie Slider paddle tail grub. Kept catching fish but no pickerel until I was maybe 100' from the launch, then BAM got the slam!
A great day with a great rod.