This reel has been the subject of quite a bit of buzz since it's debut, much of it positive. There are several in depth reviews of it's performance on YouTube, but not much in the way of what makes it tick. I documented the teardown of mine and am sharing it with you here. I'm aware that this forum is the realm of 'enthusiasts' so let me be clear about my purpose for this ... I'm putting this out for information purposes only. I'm not trying to influence anyone either for it or against it. I will say that you may be surprised (as I was) at some of the features of this reel, don't be so quick to dismiss it just yet.
I paid $45 and change US for mine from Aliexpress. It arrived well packed and intact. Nothing remarkable during the unboxing .... The reel itself, a schematic, a quality control tag written in Chinese and a reel bag. Par for the course I suppose, aside from the bag. Nice little touch there, take it for what it's worth. The Reel Grips are mine, I'm not a fan of skinny metal handles. The reel itself weighs in at 7.3 oz. It's advertised as "carbon frame and side cover". There are two spool options when ordering, the shallow BFS spool and a deep spool. I opted for the shallow. The spools are both available for purchase separately. Fit and finish were fairly impressive, no excessive gaps or molding deformities noted. Mine felt 'chunky' and somewhat sluggish when reeling it out of the box before spooling it. I got it too late in the season to really get much quality fishing time on it. Mine was mounted on a 6'6" L power rod intended for smaller cranks from around 1/8 to 1/4 oz. Out of the box it did fairly well in the short time I did get to fish it but it was apparent there was room for improvement. I did get freight trained by something large, but never hooked up with it. The first red flag was the stutter of the drag on startup, not a good thing on light line applications.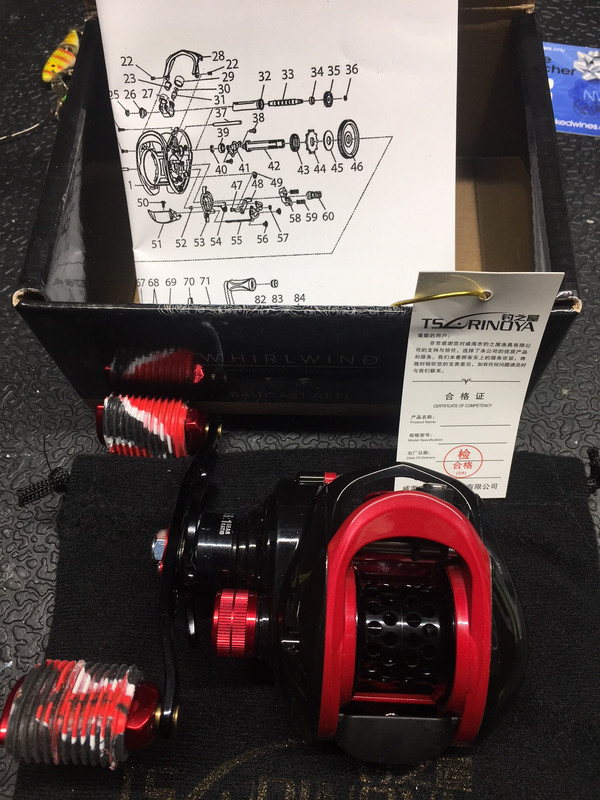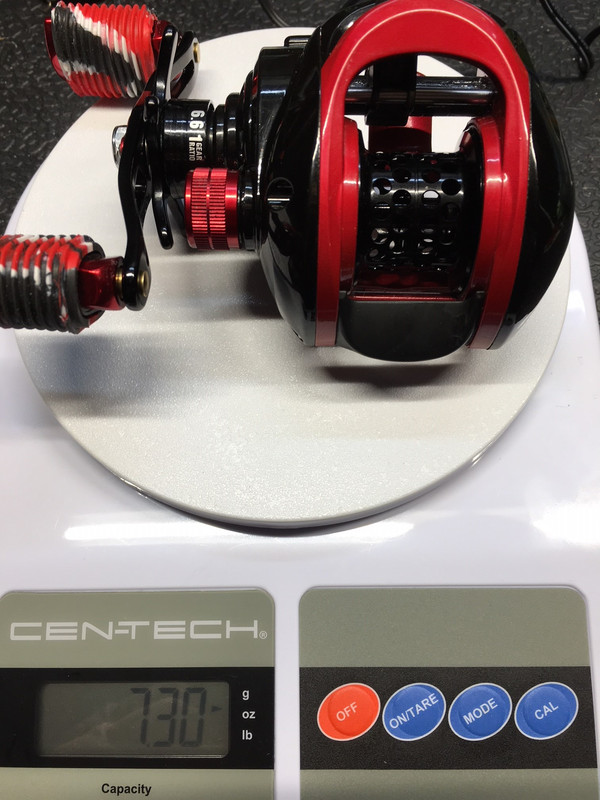 Let's get to the good, the bad and the ugly ... First is it features a swept metal drag star and cast control cap. Both are clicker type. The handle is a swept 90mm featuring two bearings per paddle. Not bad for a reel at this price point.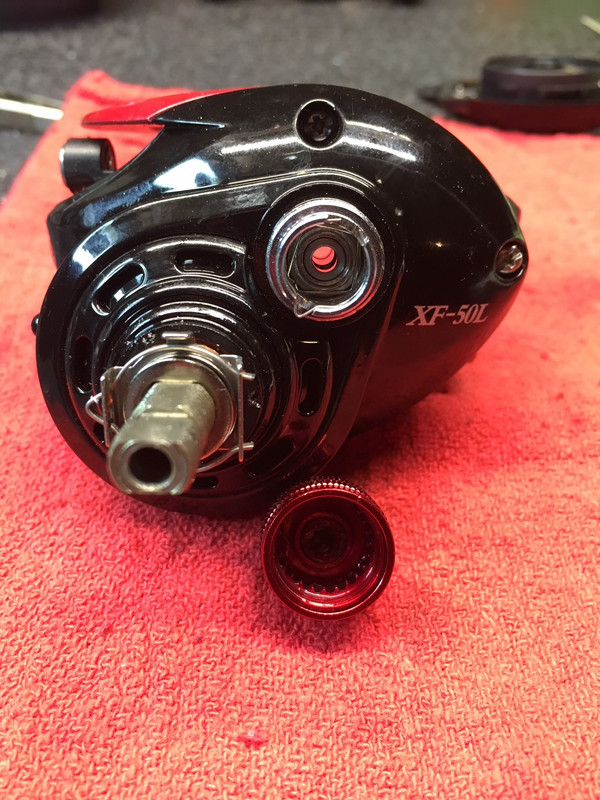 Not so good ... gobs of grease on the A/R bearing. I've never seen that intentionally done. What were they thinking ? Going further inside reveals a completely different grease on the internals. Red on the A/R and blue inside. Points taken off for the A/R but I'll call it even for the inside grease job as I always tear down a new reel and lube it to my liking anyhow.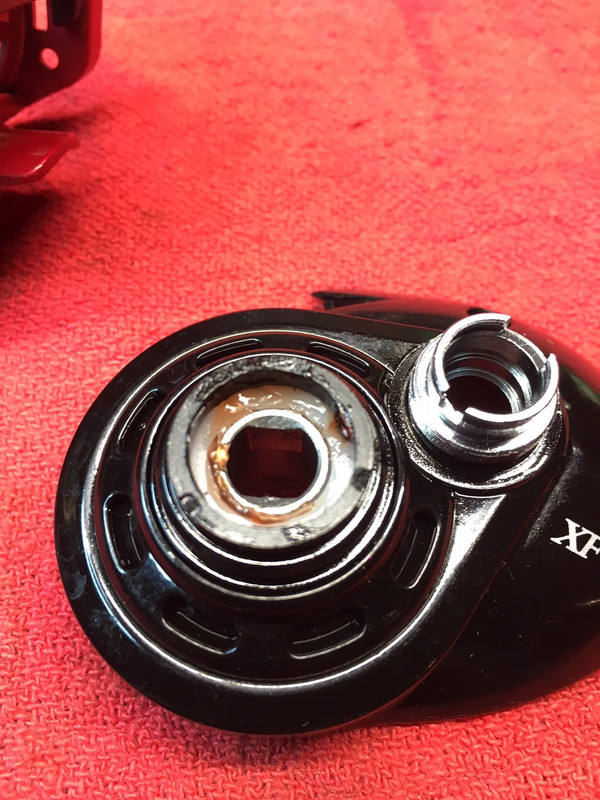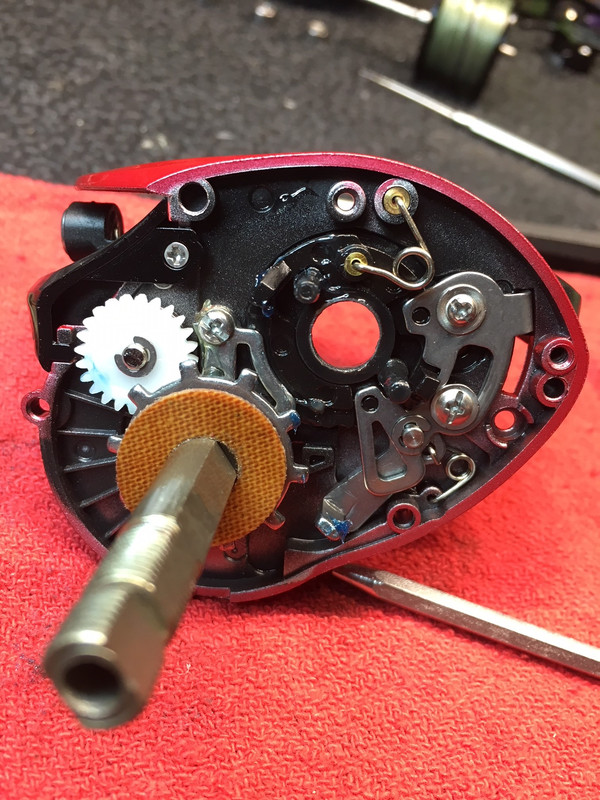 Plastic worm shaft drivetrain gearing. Common these days. Note the tiny brass bushings inserted into the clutch cam spring holes in the frame. Nice touch there as those holes would get wallowed out quickly after some time likely causing engagement issues. Further disassembly reveals another pleasant surprise, a bearing on the worm shaft. Not in and of itself a big deal but I wasn't expecting that on a sub $50 reel. The other end is supported by a bushing. The quality of the machining on the shaft itself as inspected under a magnifying lamp showed it to be acceptable.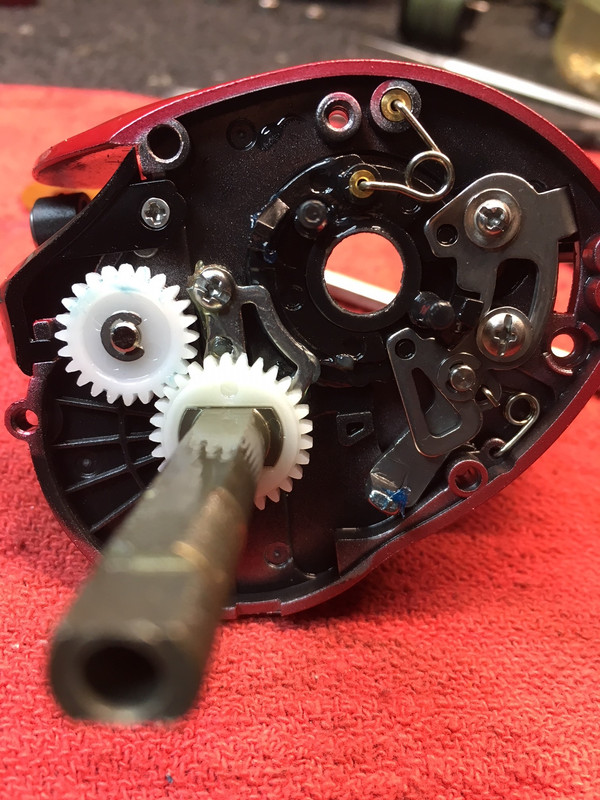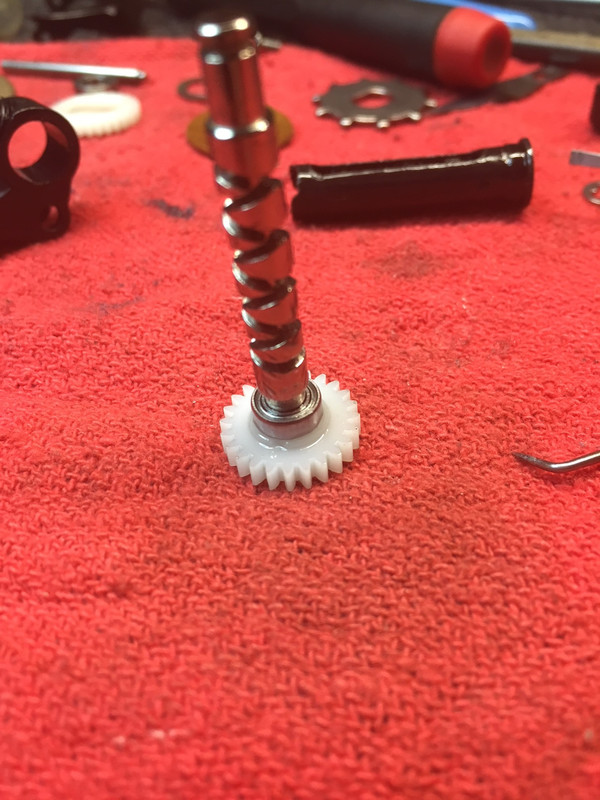 Good - brass main gear and pinion. Bad - thick paper/cardboard (?) drag washer. That needs to go !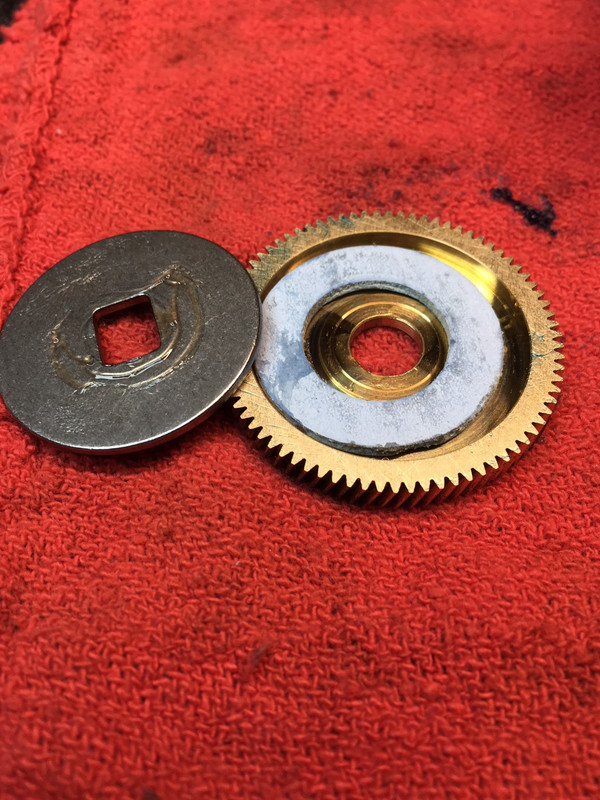 Let's address that pitiful drag. I'm a stickler for a smooth drag. I don't care about maximum drag strength, especially on light line applications. I want it butter smooth throughout the entire range especially at startup. That's why I go through the trouble of lapping (fancy talk for flattening) the metal washers in a drag stack. I do it to all of my reels, I haven't found any yet that couldn't be improved upon regardless of make or price paid. It's tedious, time consuming and boring but you only have to do it once. Basically what you achieve is uniform and consistent contact between the metal and fiber washers at all ranges of the drag. This all but eliminates stuttering and jerky drag engagement which can lead to breakoffs, especially if a brute slams your bait out of nowhere. I'll take you through the process ...
I use 3M double sided foam tape to affix the washer to a handle of some type. This is a handle from a cheap 4 in 1 screwdriver. Note it's sitting on a combination sharpening stone. You can tape sandpaper to a piece of tile or glass or use a diamond hone. As long as it's flat it really doesn't matter.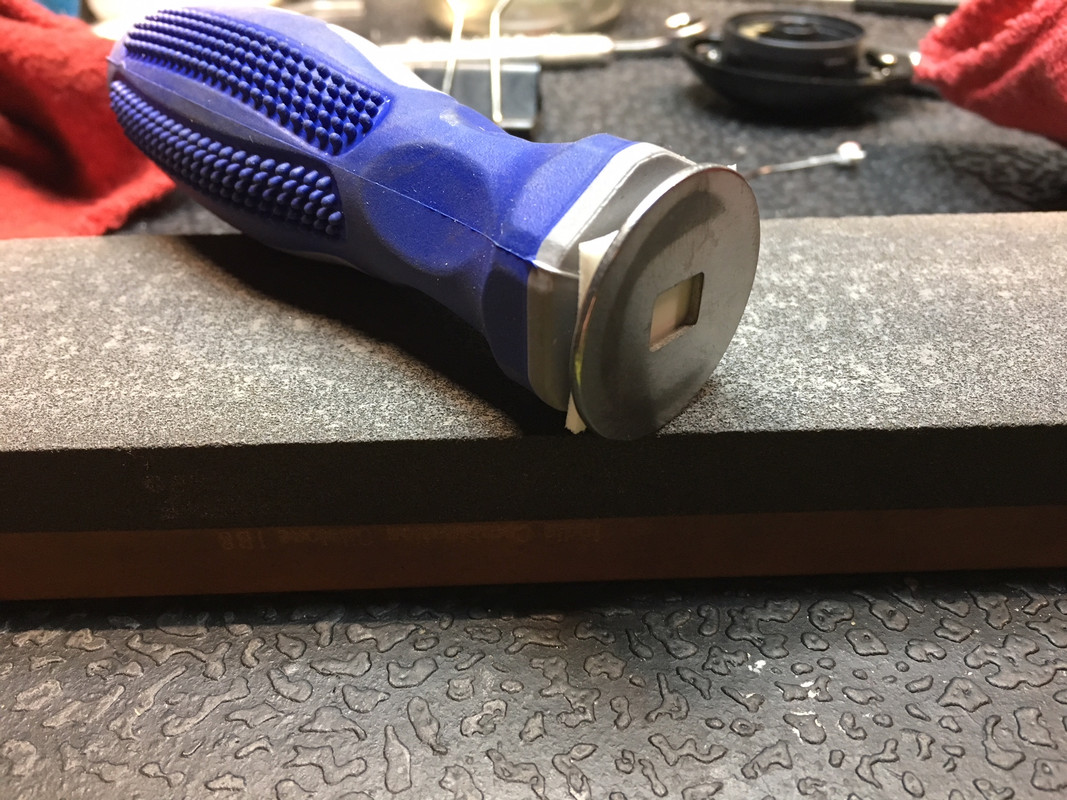 Firmly press down on the handle and take the washer for a few laps around the stone or whatever flat abrasive surface you choose. Use a figure 8 pattern, then a few ovals, X's, etc. to mix it up. Where you see the shiny areas are the high spots where material has been removed. The dull spots are the low areas. Drag washers are stamped from sheet steel, they may look flat to the naked eye but this is proof they're not. Follow the progression from the first picture to the last to see the final result. I go one step further and polish the washer using a felt wheel and jeweler's rouge on a dremel after the lapping. This isn't necessary but still an option. Regardless of whatever you choose, thoroughly clean and dry the washer of all traces of polish or other foreign material before reassembly.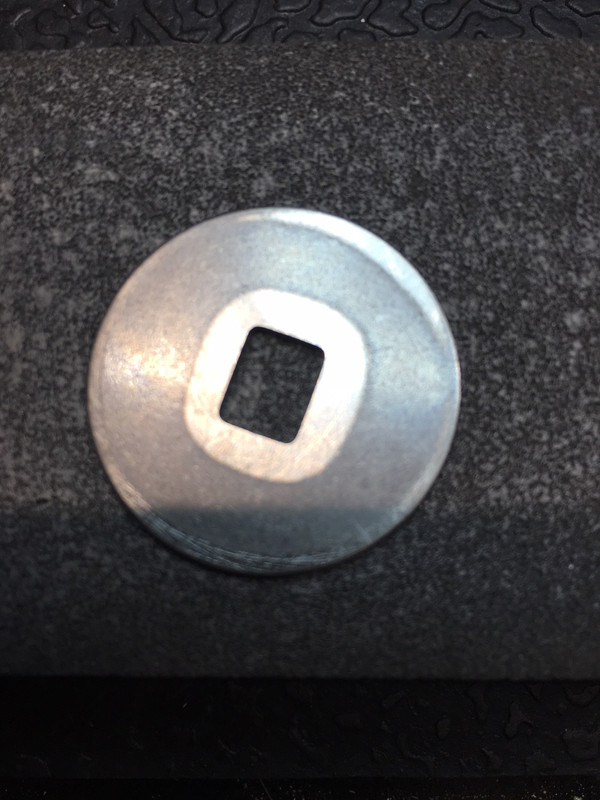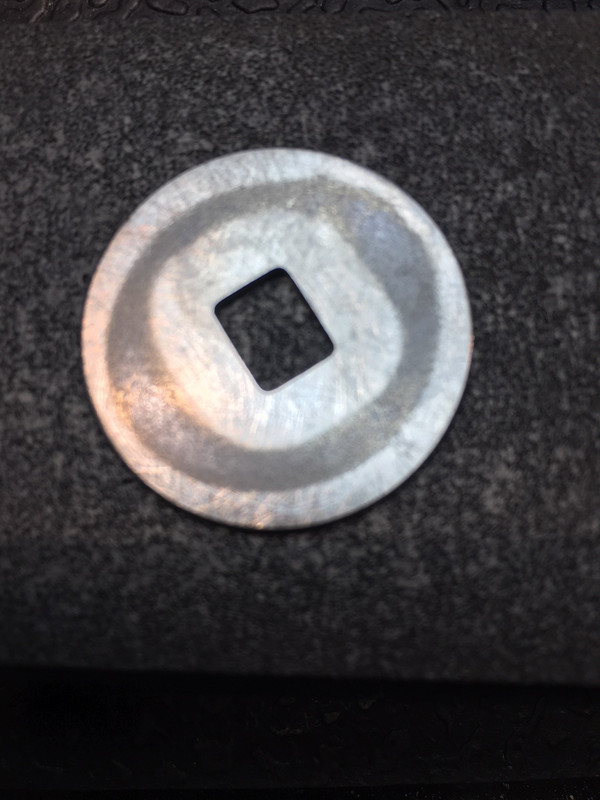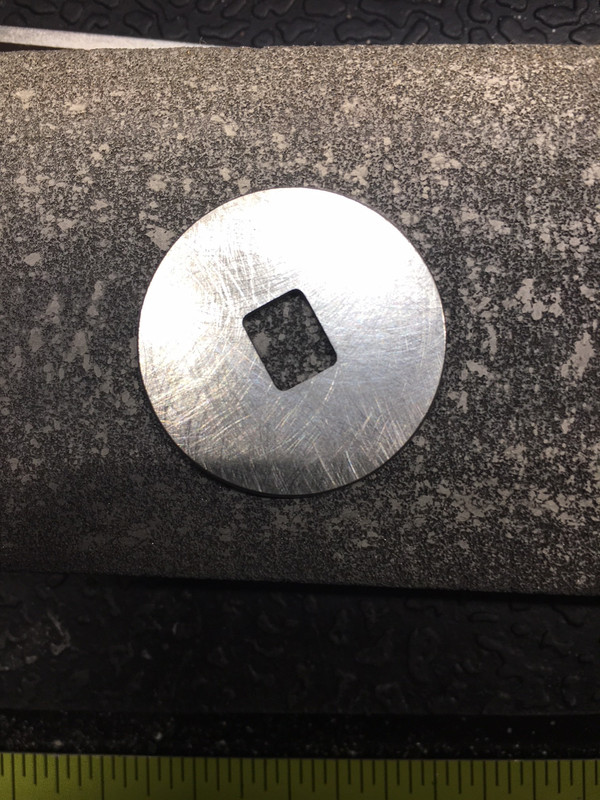 Stroke of luck here ... Smoooooth Drag has a washer in their inventory that is a direct drop in replacement (stock # 40 A) ... it is .5mm thinner than the original but that does not affect the drag adversely. The carbon fiber washer, a dab of Cal's grease and a lapped washer have transformed this sad drag into a winner. Hat's off to Smooooth Drag, they are tops in customer service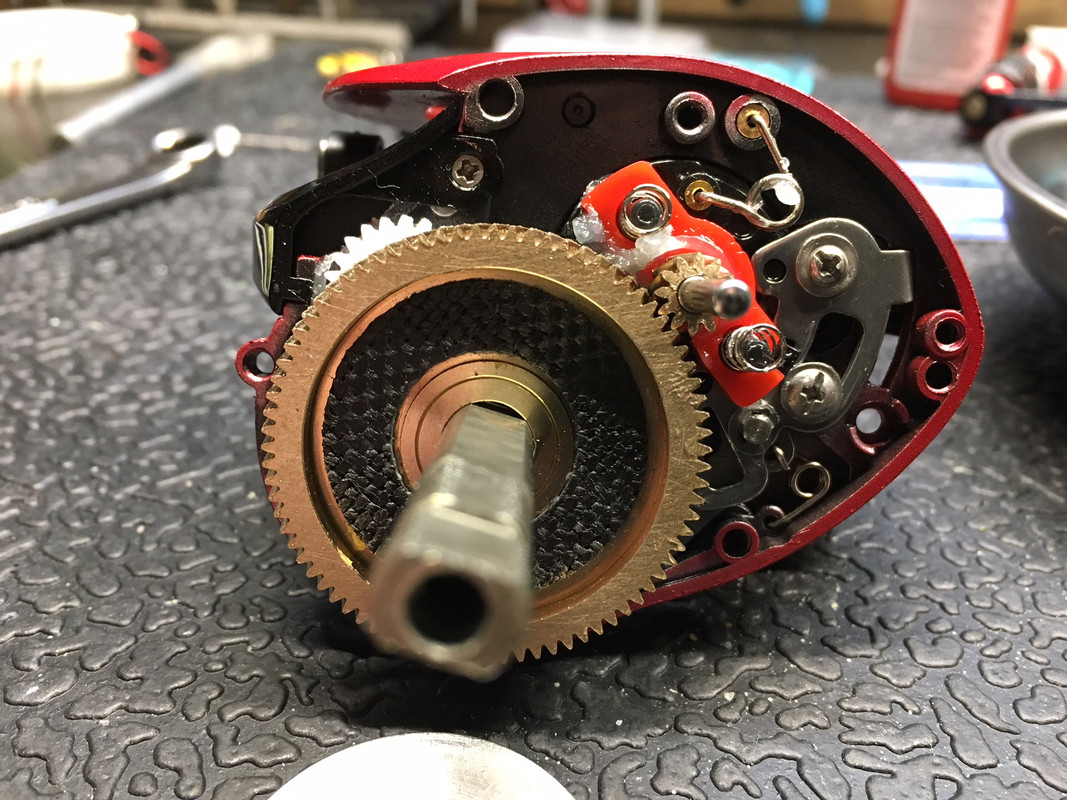 On to the spool & braking. The stock spool bearings were ditched in favor of ceramics for obvious reasons ... no need to elaborate there. The spool weighed in at 12 grams minus the bearings. Simple magnetic brake, the brake clicker knob locks in the chosen setting securely. The side plate detaches via an external latch that slightly protrudes from the bottom of the side plate. I would prefer a screw for a bit more security but there is no slop with this setup. We'll just have to see how durable this is after some time.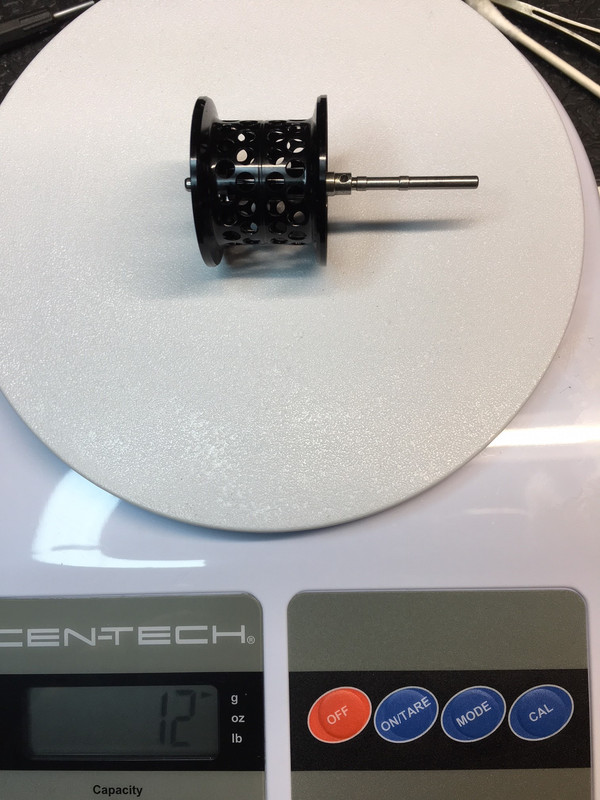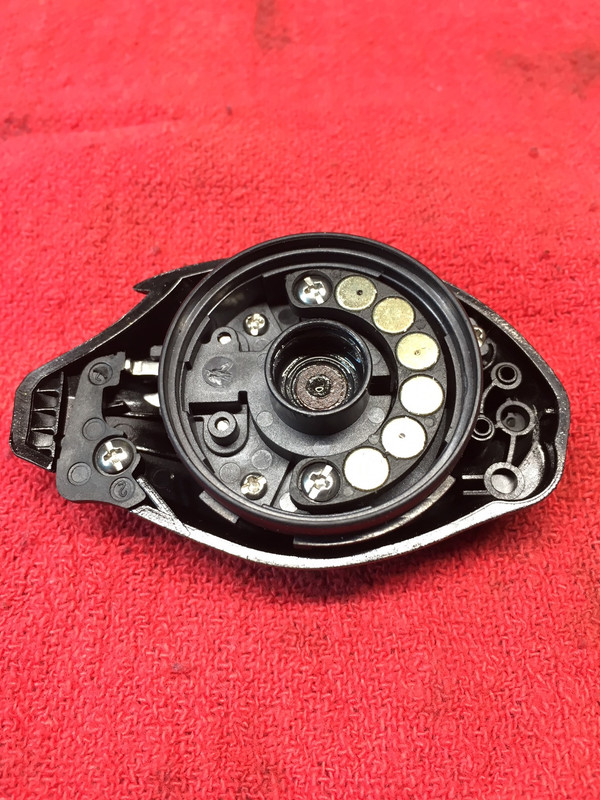 After a thorough cleaning, proper lubrication and a some minor component upgrades it is measurably a much better feeling reel. Weather and work schedule are keeping me from proving any gains in performance at this time but I will update this thread as I get some more time on the water with it. Overall,
especially for the price point
, I have to say it's fairly impressive. Is it up there with Daiwa, Shimano, Abu, etc. ? ... of course not, but like I said in the beginning don't be so quick to dismiss it either. It's a fine choice for several situations ... those on the fence about BFS, those on a budget or those perhaps looking for a workable BFS rig to keep in the car. For trout, panfish and small bass it should do very well.