Pro Angler

Posts: 1934
Joined: Sat Aug 29, 2015 1:34 pm
Location: NW OKC OK USA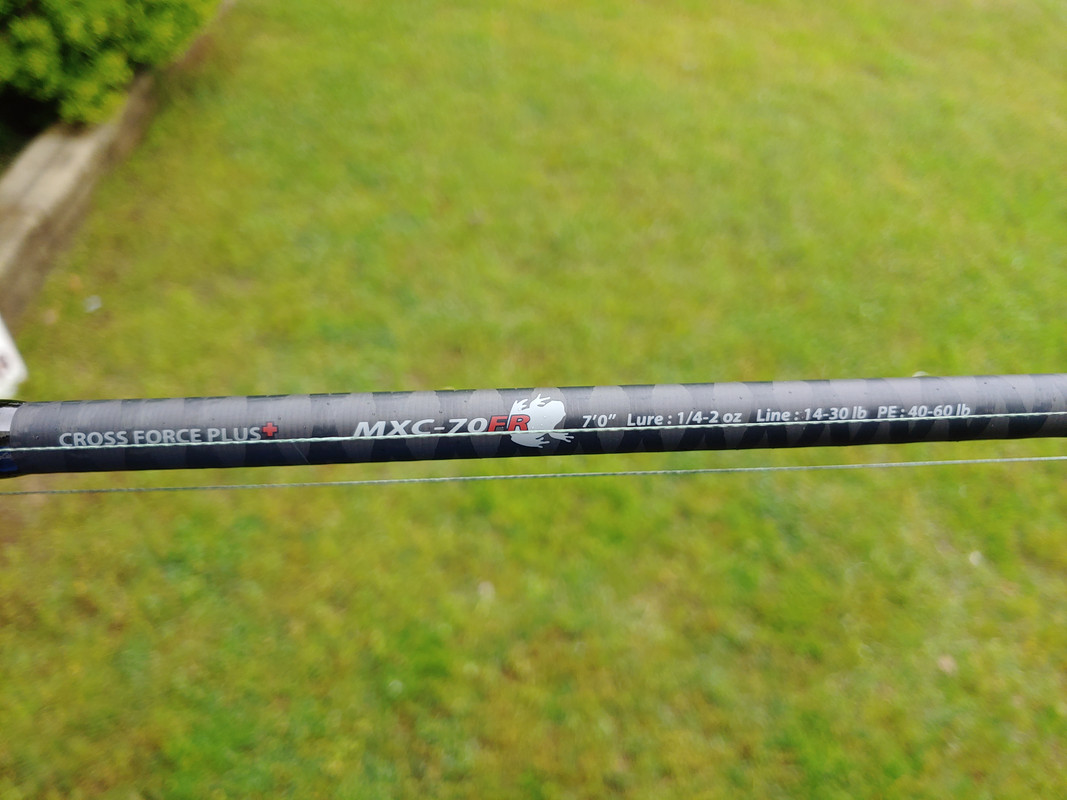 This is the way.
---
Pro Angler

Posts: 1934
Joined: Sat Aug 29, 2015 1:34 pm
Location: NW OKC OK USA
Frog time! First cast of the day, second strike, and boom, first frog fish of the year. Not a monster, but given the circumstances it gave me a very good idea of this rod's potential. This 70FR might just be the best of the MS-X bunch and I mainly just got it to justify the exorbitant shipping fees for the 67MH I had to have tracked down.
I was skeptical of the length and taper (7' Regular), but it turns out to be ideal. Most of the lack of length in comparison to other frog specific sticks is in the handle (11 5/16" from the reel foot slot to the butt) so it doesn't get in the way when popping and walking the bait, but if you really need to winch a fish through vegetation it has more of a foregrip to utilize than the other rods in the series.
The regular taper rating translates to a stiffer tip that loads more deeply into the belly when casting or pulling fish through slop. It really requires a lot of pressure to bend into the backbone so, as is typical from this series of rods, it acts like a fast-extra fast action until you really load the blank. As you can see below this aids in both casting distance and hook setting. It took no effort at all to set both hooks past the barb. The stiffness in the tip makes walking the dog effortless as well. Like every other rod in the series the action is very crisp and it exhibits excellent sensitivity. It's not exactly what I would consider a pool cue, but it has power to spare and can make long range, pinpoint casts and skips equally well.
The guide train consists of double-footed, small caliber Ti/SiC K-Series for the length of the blank and is therefore a braid casting beast. The combination of those guides, a high powered blank, and shorter rear grip means it's the only rod in the series that isn't perfectly balanced (I don't know about the 70X or 76BB), but it's not bad at all as it balances right at the front of the fore grip with a Zillion SV.
Despite the
slight
tip heaviness and somewhat stiff tip it pitches very well and thanks to its relatively low weight (4.6oz) and high sensitivity I think it would have no issue doubling as a 1/2oz+ sparse to heavy cover jig rod and tripling as a big Colorado spinnerbait/small-medium swimbait/big topwater stick. I'm pleasantly surprised at its apparent versatility.
MS-X MXC-70FR/Zillion SV 9.1/50# Power Pro original/Koppers Field Mouse 60T 5/8oz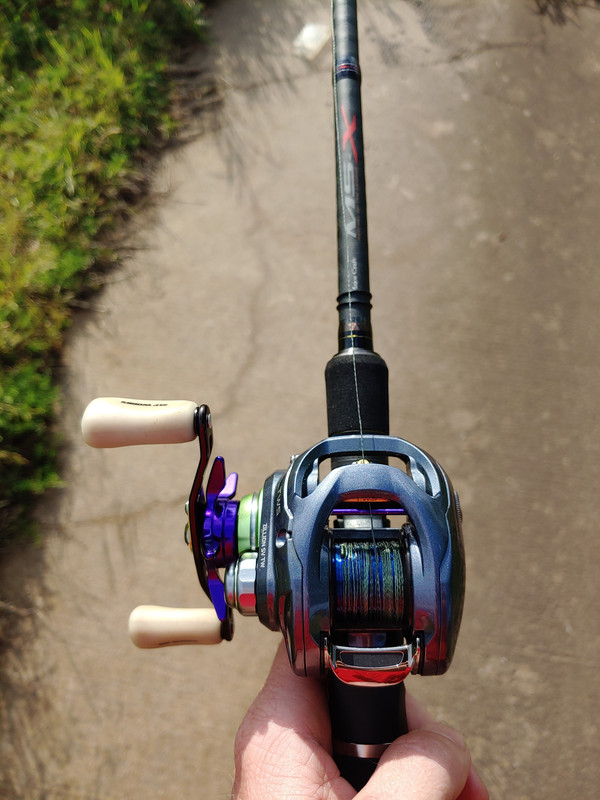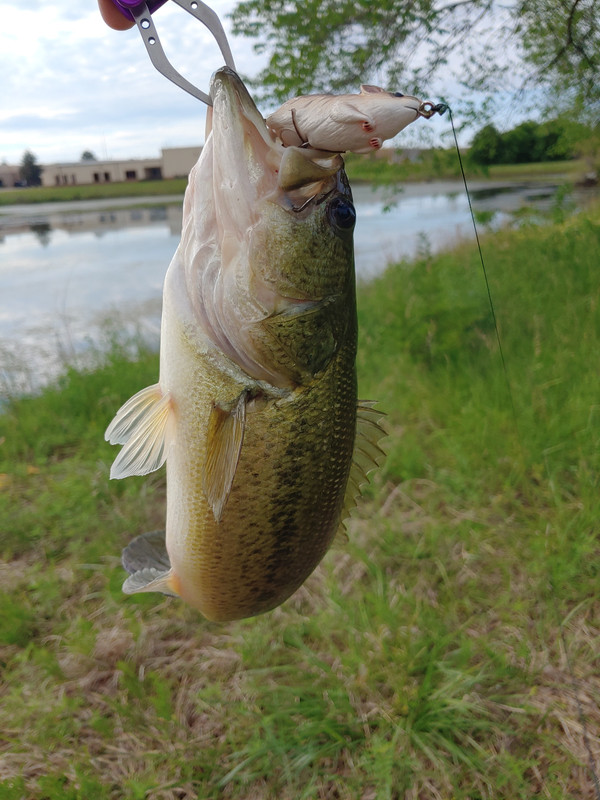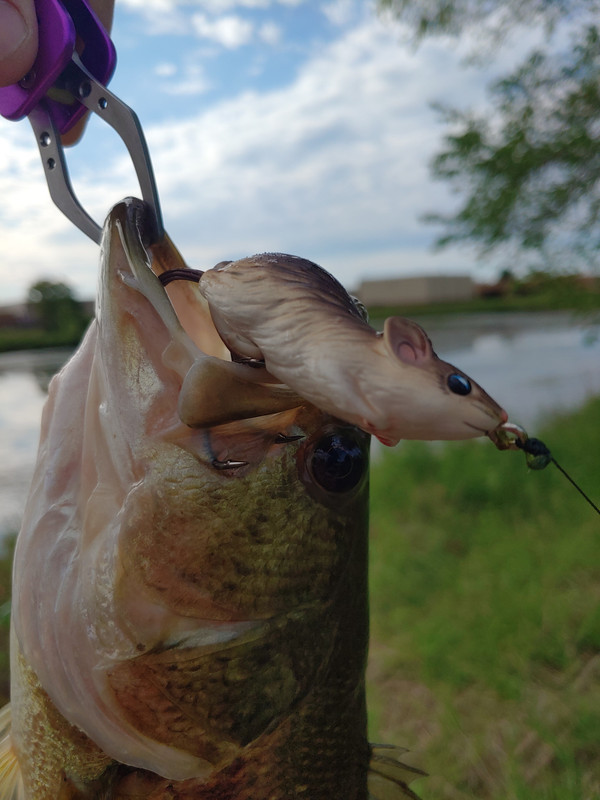 Last edited by
poisonokie
on Tue May 14, 2019 10:40 am, edited 1 time in total.
This is the way.
---
Nice catch! I've always wondered about the mouse/rat lures and if they're successful. Now I know. Congrats.
---
Pro Angler

Posts: 1934
Joined: Sat Aug 29, 2015 1:34 pm
Location: NW OKC OK USA
Thanks! There are bigger girls in there, but that's not bad for a 45 min outing before work.

Yeah, they didn't like the Jackall Gavacho I was throwing at them. That mouse is smaller, doesn't splash/chug, and dives just under the surface in the middle of each stride.
This is the way.
---
Pro Angler

Posts: 1934
Joined: Sat Aug 29, 2015 1:34 pm
Location: NW OKC OK USA
That pond is full of gills, bullhead catfish, mussels, and bass and is mostly covered not in lily pads but some kind of plant that covers the surface in what look like bamboo leaves and underneath it's just a tangled mess of stems. Frogs are almost the only thing you can fish there.
This is the way.
---
Forgive me for not being in the loop but I can't tell what rod that is? Got my boat back and drove 100mph to the bank to fish.
Anyways I was thinking about the guy on the bank fishing is probably having a better time than I was because I was still in disbelief of the cost of repairs.
Chase your dreams for they won't chase you.
Instagram is @1ncetime
---
Pro Angler

Posts: 1934
Joined: Sat Aug 29, 2015 1:34 pm
Location: NW OKC OK USA
It's a Major Craft MS-X MXC-70FR, H+ Power, Regular Action, 1/4-2oz, 14-30#, 40-60# Braid

I always have more fun fron the bank just because it's such an expensive, time consuming PITA just to take a boat out to the lake, much less to have it worked on.
This is the way.
---
Pro Angler

Posts: 1934
Joined: Sat Aug 29, 2015 1:34 pm
Location: NW OKC OK USA
Another Contender:
MS-X MXC-70H/TD Zillion 7.1/18# Sniper/Half ounce Siebert Dock Rocker with Owner Cutting Point hook and Rage Tail Denny Brauer Cover Craw
Again, not a monster, but it gave me a great idea of the rod's capabilities. I'm sure I would have either lost this fish or missed it altogether with the rods I've previously used for jigs.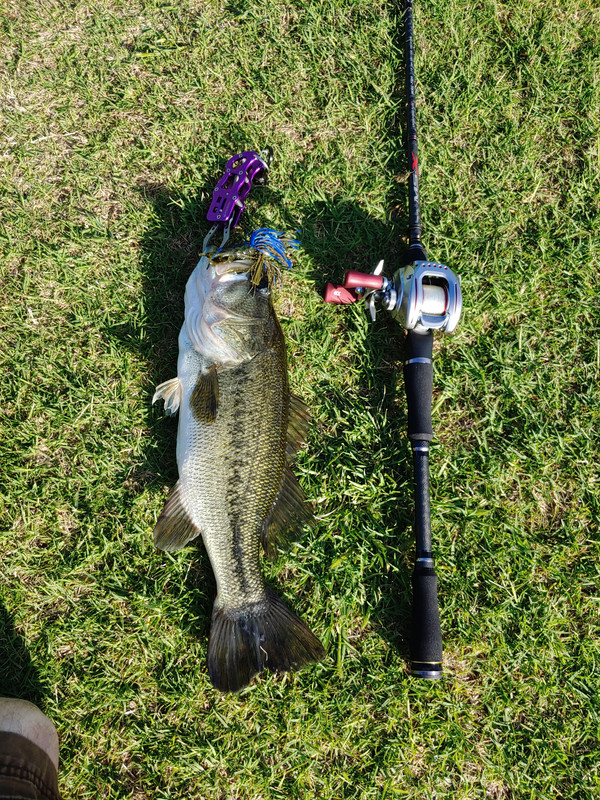 Besides being a very adept jig rod, this one works well for frogs as well. Like the rest of the line it has excellent sensitivity and perfect balance. The tip is quite a bit softer than the frog rod, but it's got a really strong backbone and a really nice progressive taper which results in solid hook sets, the ability to steer big fish around and pull them out of slop, and it keeps them pinned. Like the frog rod it has small caliber, double footed, Ti/SiC K-guides for the length of the blank. Because of the taper, which is on the regular side of regular fast, I wasn't sure about it at first, but it's definitely a killer jig/frog rod. Not as adept with frogs as the 70FR, but better suited for 1/2oz jigs.
This is the way.
---
ordered the H3 today from Kistler. got it for 207$ shipped
---
Depends on what size jigs you plan on using but consider the Megabass Tour Versatile or Power Versatile. I use it for frogs as I am not very tall and with you standing on the bank I feel like the shorter rod would help you work it better. Plus the shorter length will be easier to transport when bank fishing.
---
Power Versatile is a lovely suggestion. I use mine primarily for frogs and larger moving baits, but it handles 1/2 oz and up jigs very nicely while being able to fish light Texas and Senkos. It's a phenomenal rod for bank fishing as long as you can accommodate the length.
---