Yesterday I recieved my latest aquisition. My first new UL rod for 15 years!
A Tsurinoya Dragon QLC602UL baitcaster along with a Tsurinoya FX50L. I've been wanting to get into BFS fishing for years, but
suitable reels are hard to come by here in Norway, and suitable rods...impossible. They are not even imported. And prices are insane for the reels, so for UL fishing I have stuck with my fixed spool setup.
But on researching for a reel to use for mackerell and perhaps sea trout, I came over a video on youtube on the FX50 reel. And found out that I can get something workable on AliExpress, and who am I to deny myself the pleasure of trying something new :-D
Anyway I received the combo in the mail yesterday. It looked the part, so I spooled up with 12lb test braid and went to a lake nearby.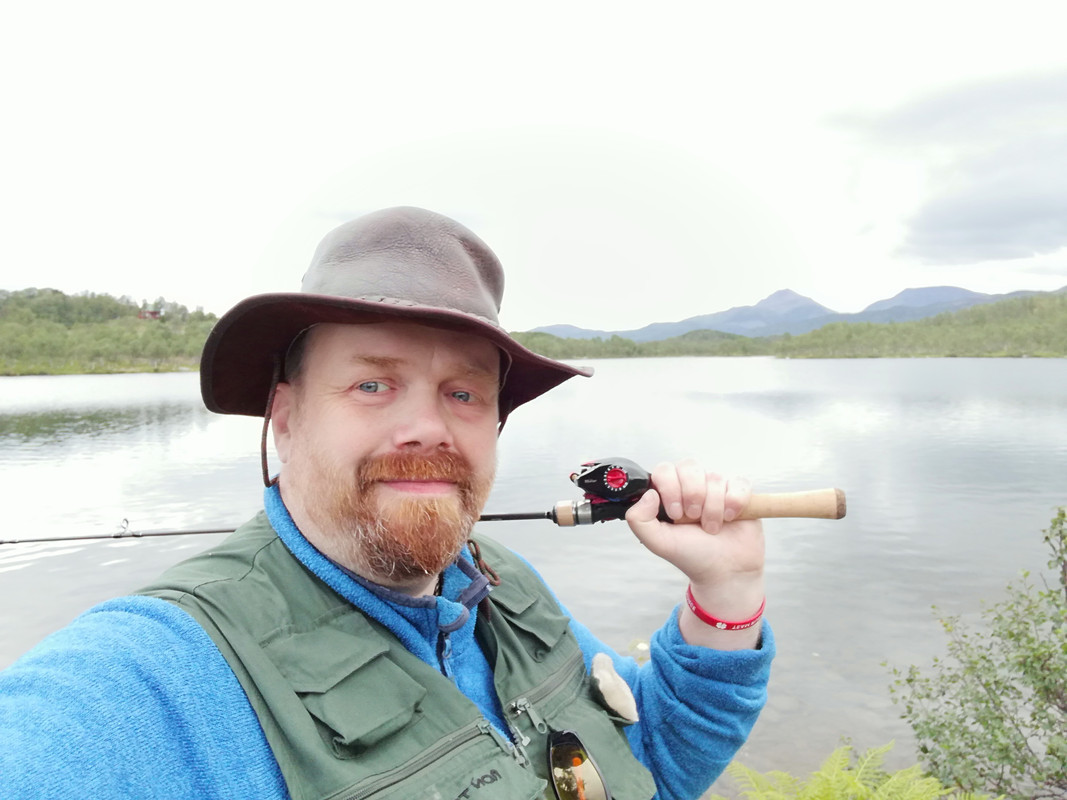 Now this particular lake I have a love/hate relationship with. hate because of all the good memories from my youth when me and my buddy, Robert used to go there in his beat up old Datsun 120Y station wagon to try to catch the big trout and arctic charr in this three lake system. Me with a light salmon rod casting bombarda floaters and flies, and Robert with his light trout rod casting spinners.
I never caught anything and ended up chatting by the fire, while making a brew or cooking some food, while Robert maybe got a couple of 2-300 gram trout on 3 gram spinners diring an all night fishing session under the midnight sun, while we watched the big lunkers jump mid lake...far out of reach for us land crabs. Besides everyone we talked with about this lake said this is a good ice fishing lake but hopeless from the shore in summer.
And then we found another nearby lake, that was free to fish and that produced fish in the 3-400 gram class with allmost guaranteed catch....
But I have continued to return to this lake at least once every summer...allmost to confirm that this lake is indeed hopeless.
And when I got this combo, I needed a place to test it. And for health reasons I can't walk far, and this lake is perfect for me, as I can drive right down to the lake. So it would be a nice place to test if I can master this rod and reel. I have been casting 6500 ABU baitcasters for years. But not something this small. The rod is classed for 1-8 gram lures.
So the first hour at the lake I just concentrated on dialing in the reel. The first cast ended in backlash. But after some adjustments of the magnetic brake and spool tension, I soon had it casting my 3 gram spinners just as far as I can with my fixed spool rig in this class. So I was happy. Time to start fishing for real. I was allready feeling fatigue setting in, so I thought I'd just stay at this lake until I was used up (I suffer from Chrons, I fatigue quickly when doing anything physical).
An energy bar and something to drink restored me somewhat so I decided to just cast my way round the lake. I could not see any feeding or jumping fish. This lake system has both trout and arctic char, and the creek that runs to the sea is a salmon river. But it appeared devoid of life now.
Having no visible clues to hunt, I just waded along the shore. This was easier as like all lakes here, it was ringed with mountain birch shrubs. I would wade 5- 10 meters and fish the area, and continue like that all along the bank. But there was nothing to see...not an indication of fish!
I was almost on the other side of the lake from where I had started, and I was down to my last lure after trying everything I had in my little lure box. I had tried Blue fox Vibrax in 3 colors and 2 sizes, 4 colors of Loftys cobra, a Norwegian spoon called a Special, and another Norwegian lure called a Atomsilda as well as some other nameless ones. And I was down to my Rapala Classic (sinking). I have had this one in my lure box for at least 15 years, and never caught anything on it. But it had a fairly dark top, it was cloudy, raining and dusk was upon me. So why not?
I clipped it on and cast...and just as I started reeling there was a gentle tug! "Hit bottom" I managed to think and then there was a PULL! The rod bent 90 degrees and all hell broke lose! It was fish on!
The rod was at 90 degrees and it continued to tug, Brake was set to hard! Losen it!
The fish immediately raced away with line. But I managed to keep some pressure on and it soon stopped, and I could reel in some. But then there was a splash and off it went again!
It stopped and I reeled in again, and got it to my feet...and it was nice!
But a spalsh and off it went, this time jsut a few meters, and it followed when I reeled it in...this is when I remembered that my landing net was still in my car!
Only one thing to do...I grabbed it and heaved it onto the soft moss on the bank, and yelled my best battle cry!
So my first fish on my China baitcaster setup was a 780 gram and 39 cm long fatso of a brown trout, 30 years in the making!
the stuff of legends I tell you!
Am I unto BFS fishing now? You bet I am!